Coir Atlas (JV)
Compelling Reasons to Choose Coir Atlas (JV)
Ideal
Cost-effective
Tested
Certified
Proven
Sustainable

Coir Atlas is a superior option to wood scantlings / separators. Bamboo sections form the core of Coir Atlas (JV) and bear the weight of the material being shipped (such as steel sheets or steel plates). Layers of Jute fabric secure the shape of Coir Atlas. While this makes it a log-like unit, it also gives it characteristics far superior to wooden scantlings
What does Coir Atlas (JV) look like?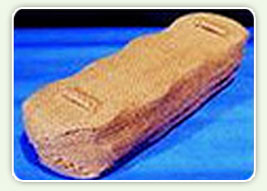 Where can Coir Atlas (JV) be used?
Coir Atlas (JV) replaces wood separators between plates and sheets. Multiple units can be placed on the plate / sheet to provide maximum support. Coir Atlas (JV) is designed for the transportation problems that are faced by the steel industry and aluminum industry.
Why Coir Atlas (JV) is superior to wooden scantlings

Lower on Cost

Scantlings are costly. Coir Atlas (JV) is less expensive and more cost-effective.

Higher on Strength

Scantlings break under pressure. Coir Atlas (JV) has lab-proven strength and does not break.

Safer on Material

Scantlings scratch the top and bottom sheets of the material being transported. The jute covering in Coir Atlas (JV) does not leave such scratches.

Effective in Transport

Scantlings shift during transport and this can result in accidents. It also leads to time extensions when the material is unloaded. Coir Atlas (JV) holds the material securely in place, preventing accidents and making unloading worry-free.

Low on Pilferage

Wooden scantlings have more value and are prone to pilferage. Coir Atlas (JV) is made out of bamboo and pilferage worries are fewer.

Assured in Supply

Wooden scantlings face an uncertain supply scenario as it gets more difficult to procure timber. Coir Atlas (JV) is made from bamboo, which is more renewable, and hence offers assured supply.

Friendlier to Nature

Wooden scantlings are procured at high cost to the environment and lead to deforestation. Coir Atlas (JV) is made using eco-friendly materials such as bamboo and jute, making it the more eco-friendly choice.
How Coir Atlas (JV) was developed

Robust development

The Coir Atlas (JV) prototype was developed and perfected over a period of 8 years.

Extensive testing

Shop floor testing and field trials were successfully conducted on 400+ wagonloads by Tata Steel and Bokaro Steel.

Credible certification

The National Testing House (NTH) and IIT Kharagpur have certified Coir Atlas (JV) after subjecting it to many different tests, including compression tests for its ability to bear weight as well as ageing tests to assess the shelf life of the product.